"There is no universally accepted definition for action research, many useful ones do exist" (Koshy, Koshy, & Waterman, 2010, p. 8) along with a selection of models available to assist in structuring an action research project.
The Spiral Model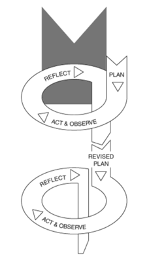 The Spiral Model from Stephen Kemmis and Robin McTaggart is an example of an action research model, the key stages of the Spiral model are:
Planning a change
Acting and observing the process and consequences of the change
Reflecting on these processes and consequences
Re-planning
Acting and observing again
Reflecting again
(Kemmis & McTaggart, 2007, p. 271)
The two main benefits of the Spiral model are that it is simple, logical and very flexible. "The authors advise us against using this as a rigid structure. They maintain that in reality the process may not be as neat as the spiral suggests." (Koshy V. , 2010, p. 4)
O'Leary's Cycles of Research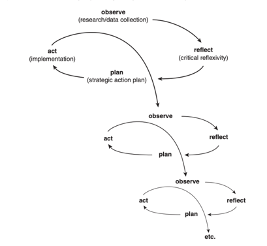 Another model that can used for action research is O'Leary's Cycles of Research, "O'Leary sees action research as an experiential learning approach, to change, where the goal is to continually refine the methods, data, and interpretation in light of the understanding developed in each earlier cycle." (Koshy, Koshy, & Waterman, 2010, p. 6) The primary difference between O'Leary's Cycles of Research and other methods is that the research focuses and becomes more specific the further down the cycle and the more iterations are completed.The cycles of the O'Leary's Cycles Of Research "converge towards better situation understanding and improved action implementation; and are based in evaluative practice that alters between action and critical reflection" (Stringer & Genat, 2004, p. 140) Although the stages are similar to other methods, such as the spiral model, they occur in a different order. O'Leary's Cycles of Research has an initial stage of observation and data collection, this transpires before any planning occurs, this approach is more scientific as this stage allows collection of control data which will be beneficial during analysis. The drawback of this method is its more structured nature with clearly defined stages that focus as cycles occur.
While these models provide excellent structure to an action research project, "an action researcher should adopt the models which suit his or her purpose most or adapt them to fit that purpose." (Koshy, 2010, p. 5)
Bibliography
Kemmis, S., & McTaggart, R. (2007). The Action Research Planner: Doing Critical Participatory Action Research. Thousand Oaks, California: Sage Publications.
Koshy, E., Koshy, V., & Waterman, H. (2010). Action Research In Healthcare. London: SAGE Publishing.
Koshy, V. (2010). Action Research for Improving Educational Practice: A Step-By-Step Guide. London: SAGE Publications Ltd.
Stringer, E., & Genat, W. (2004). Action Research in Health. Upper Saddle River, NJ: Pearson Prentice-Hall.